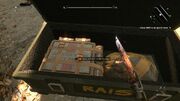 The Disaster Relief On-site Package, or DROP, is an item that appears in Dying Light. They can be found in airdrops, in Rais' supply stashes, in quarantine zones and during certain quests. DROPs will appear in every single airdrop that the player manages to salvage, and in isolated airdrops where there are two unopened crates, each one will contain a DROP kit and random package on the side, such as medical supplies or a box of flares. In Rais' supply stashes, it contains stolen goods instead.
These DROPs can be delivered to Quartermasters for additional Survivor experience points. Upon delivery, the Quartermaster in the Tower will thank the player character; sometimes mentioning that people would've starved without their help. This suggests that the relief packages could contain any basic disaster supplies ranging from food and water, to Antizin and medical aid of the like. Despite DROPs being displayed as legendary items, they have no actual monetary value and cannot be sold to merchants.
Ad blocker interference detected!
Wikia is a free-to-use site that makes money from advertising. We have a modified experience for viewers using ad blockers

Wikia is not accessible if you've made further modifications. Remove the custom ad blocker rule(s) and the page will load as expected.