The Dying Light Wiki encyclopedia.


Warning: the Wiki may contain spoilers. Read at your own risk.
Overview
About Dying Light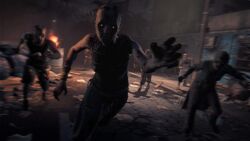 Dying Light is a open world first person survival horror game exclusively for PlayStation 4, Xbox One and PC. Players assume the role of Kyle Crane, an undercover operative sent to infiltrate the quarantine zone in the historic Turkish city of Harran, during his mission to find Kadir "Rais" Suleiman, a political figure gone rogue who has a file that could destroy the reputation of his agency. But when he arrives, he must decide between completing his mission or helping the other survivors, who are being led by Harris Brecken (Matthew Wolf). During the day, players will explore the vast and dangerous world in the aftermath of a vicious epidemic, scavenging for supplies and crafting weapons. Once night falls, the infected become much more ferocious and the player must fend them off. Read More
Gameplay
Featured News
Featured Videos
Cinematic Trailers
Gameplay Trailers
Featured Media
Blog Posts
Create blog post
Recent
This method is meant to ludicrously enhance the speed of grinding a player's Legend Rank from weeks or months to one simple hour. This method is made up of a couple glitches that …

Read more >

Heyo everyone... Werewolf here.

I'm just going to make this short and sweet, but... I'm going to be taking a hiatus again from this place... but for a really, really long time. At …

Read more >

Hey everyone, it's Werewolf here and I'm back! Back from the dead and ready to party!

Soon, I will be uploading more weapon images, starting with the knives and I'm going to be fin…

Read more >
See more >
---
Ad blocker interference detected!
Wikia is a free-to-use site that makes money from advertising. We have a modified experience for viewers using ad blockers

Wikia is not accessible if you've made further modifications. Remove the custom ad blocker rule(s) and the page will load as expected.