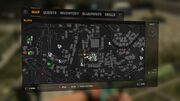 "Protect Omar" is a Protect quest available in Dying Light. It is offered by a survivor named Omar Boz immediately outside The Tower. When finding and helping him, Kyle Crane is required to help escort him in search of his fishing equipment. He will head to an abandoned shophouse to pick up his fishing reel. Next, he will head to his friend Rashan's house where Omar sold his fishing rod to Rashan. Along the way, a Toad and a Goon will need to be killed to continue along the quest. During the quest, Omar tells his stories about how he acquired his fishing pole, though Crane doesn't care to listen. After making a pit stop to his friend Rashan's house, where his friend is found dead in the kitchen, Omar is escorted to a house on the shore where he rides out the outbreak, stepping out to happily fish from time to time. Omar will give Crane a GTFO blueprint upon successful escort to the house on the shore.
Ad blocker interference detected!
Wikia is a free-to-use site that makes money from advertising. We have a modified experience for viewers using ad blockers

Wikia is not accessible if you've made further modifications. Remove the custom ad blocker rule(s) and the page will load as expected.