"Searchlights" is a side quest available in Dying Light.
Apparently Aflie discovered another way to protect the Tower: the Spotlights could help fight off the Infected's night attacks. Problem is, the only bulbs strong enough to make this work are used for the Infamy Bridge firewall,a wall of UV lights from above that keep the volatiles from getting past.The military installed these UV lights to keep the quarantine in old town.They were rigged to explosives as a failsafe if the UV lights power went out.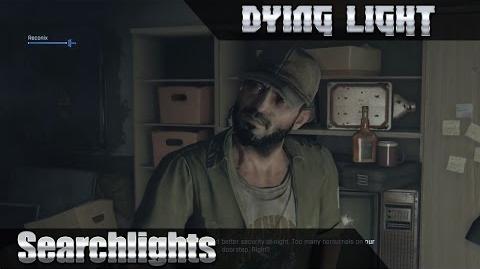 Quest Details:
Location: Tower (Alfie)
Difficulty: Medium
Unlocked by: Voltage & Pact with Rais
Rewards: 5,000 Survivor XP, Electricutter Blueprint
Mission Description
The player must travel from Brecken's Tower in the Slums to the Bridge at the East side of the map at nighttime. Upon arriving at the base of the Bridge Towers, the player must climb up both of the towers to reach the struts across and retrieve the working bulbs from the spotlights located across the struts. There are two struts on two different levels, so the player will need to either climb up to the upper level for the second set of bulbs, or descend to the lower level for the second set.
Tips
Rather than risk being spotted during the night, The player should try to spend most of the day completing other tasks, then arrive at the base of the Bride towers near dusk and begin climbing. This eliminates any possibility of the player being chased by Volatiles and becoming confused during the mission.
Ad blocker interference detected!
Wikia is a free-to-use site that makes money from advertising. We have a modified experience for viewers using ad blockers

Wikia is not accessible if you've made further modifications. Remove the custom ad blocker rule(s) and the page will load as expected.