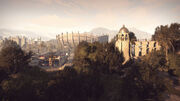 The latest addition to Harran's cityscape is a modern multi-discipline stadium built specifically for the Global Athletic Games. With the seating capacity of over 60,000, it is the largest construction ever built in
Harran
. Thanks to its modern design and great functionality, the stadium is a true architectural gem that makes all Harranians proud of their city. The stadium will be the main stage of the upcoming Global Athletic Games, hosting most athletics events and all official ceremonies.
References
Edit
Ad blocker interference detected!
Wikia is a free-to-use site that makes money from advertising. We have a modified experience for viewers using ad blockers

Wikia is not accessible if you've made further modifications. Remove the custom ad blocker rule(s) and the page will load as expected.