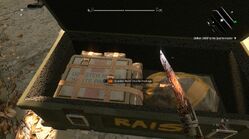 Stolen Valuables are valuable items that appear in Dying Light. They can be found in police vans and airdrops, containing five jewel boxes, the approximate price of the stolen valubales is 2500$ (in the picture the stolen valuables is to the right of the DROP)
Ad blocker interference detected!
Wikia is a free-to-use site that makes money from advertising. We have a modified experience for viewers using ad blockers

Wikia is not accessible if you've made further modifications. Remove the custom ad blocker rule(s) and the page will load as expected.