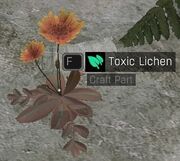 Toxic lichen is an uncommon crafting part in Dying Light. It can often be found growing on top of large rock faces and cliffs in areas generally considered 'out of the way' or hard to access. They are often used in blueprints which add a toxic effect to the player's weapons.
Ad blocker interference detected!
Wikia is a free-to-use site that makes money from advertising. We have a modified experience for viewers using ad blockers

Wikia is not accessible if you've made further modifications. Remove the custom ad blocker rule(s) and the page will load as expected.