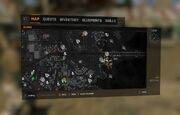 "Where's My Mother" is a side quest available in Dying Light. It is triggered by talking to Meliha who can be seen and heard calling and banging loudly on a door in Fishermen's Village after the village is unlocked as a Safe Zone during the main mission Pact with Rais.
To complete it you have to first visit a man under the brocken bridge which is not very far. It is revealed that he has forced his wife Aida out of the safe zone because she was bitten. After this you have to come back to the fisherman's villege to talk to the woman's daughter Yashmina who refers her brother Jamil's location as a house with red flowers. After finding the house with red flowers you have to go to a man who had kept the woman hostage for sexual abuse. You have to first fight with some virals before killing the man. The mission ends with rescuing the woman from the basement.
Ad blocker interference detected!
Wikia is a free-to-use site that makes money from advertising. We have a modified experience for viewers using ad blockers

Wikia is not accessible if you've made further modifications. Remove the custom ad blocker rule(s) and the page will load as expected.